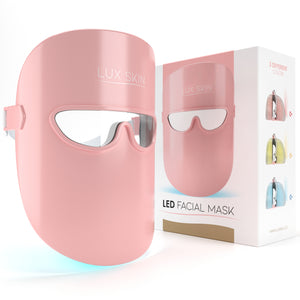 Our wireless face mask uses medical grade LED light therapy which penetrates into the skin layers and targets skin issues at a cellular level. 

Unlike other LED masks which are only using RED LED light, the LUX SKIN mask has 3 modes (Blue, Red and Yellow LED light) each light penetrates the skin at a different wavelength which helps with different skin issues.
Blue LED Light (470nm) Benefits:
Stimulate blood flow (the key to younger looking skin)

Kills acne causing bacteria (reduce and prevent acne)
Red LED Light (650nm) Benefits:
Increase levels of collagen

Promote cellular repair and rejuvenation 
Reduce fine lines and wrinkles
Reduce appearance of redness and pigmentation
Yellow LED Light (560nm) Benefits:
Reduce dark spots, inflammation and swelling

Reduce skin irritation and rosacea
Boost lymphatic flow
Product Features >
2 Hour battery life usage
Improved silicone eye mask for total comfort
60 Medical Grade LED lights 
Fully charged in 30 minutes
Unique wireless design 
Before & After >
How often should I use it?
We suggest 3 times per week, for 15-30 minutes per session.
How long does it take to see results?
Results can be noticed in as little as 1 week!
Is it easy to use?
Super easy! Just ensure its charge, press the on button, select your color and wear it for 15-30 minutes! 
Why Over +800,000 Choose LUX SKIN:

100% Money-Back Guarantee
If you are not satisfied within 90 days, you can get a full refund!

Lowest Prices
Our prices are generally 50-80% LOWER than competitors. Our priority is customer satisfaction rather than huge profit margins!

Fast and Free Shipping
We have reliable and fast shipping from Australia. Free for orders +$150!
---