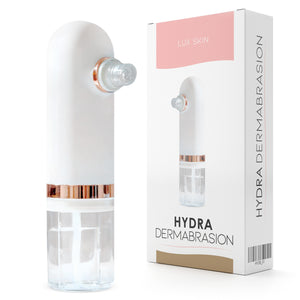 Hydra-Dermabrasion is a deep exfoliating method that works by using water to cleanse and vacuum simultaneously. As the water flushes through your pores, the vacuum sucks out any dead skin cells and debris.
The result? It's a spa treatment at home! You are left with flawless, clean skin!
Benefits >
Unclog pores and get a deep cleanse.
Cleaner pores means less chance of acne and breakouts.
Reduce skin oiliness.
Remove dead skin cells. 
Hydra-Dermabrasion vs Microdermabrasion >
While both methods work by exfoliating the top layer of dead skin, Hydra-Dermabrasion is a newer technology and considered to be a lot more gentle. 
The added benefit of Hydra-Dermabrasion is you can add a cleanser or exfoliating serum into the water mixer, which means you are flushing your skin with ingredients such as AHA's or Hyaluronic Acid for additional benefits!
How long does it take? 
A session takes 5-10 minutes.
How often should I use it?
We suggest once per week. 
Can I use on all body parts?
Our Hydra Dermabrasion device is designed to be used on the face only.
Why is it so cheap compared to other brands?
That is the LUX SKIN® difference! We don't have super high profit margins, we put the customer first.
In most cases our products are made in the same factories from the same materials as brands that sell for at 2-3x higher prices!
Why Over +800,000 Choose LUX SKIN:

100% Money-Back Guarantee
If you are not satisfied within 90 days, you can get a full refund!

Lowest Prices
Our prices are generally 50-80% LOWER than competitors. Our priority is customer satisfaction rather than huge profit margins!

Fast and Free Shipping
We have reliable and fast shipping from Australia. Free for orders +$150!
---